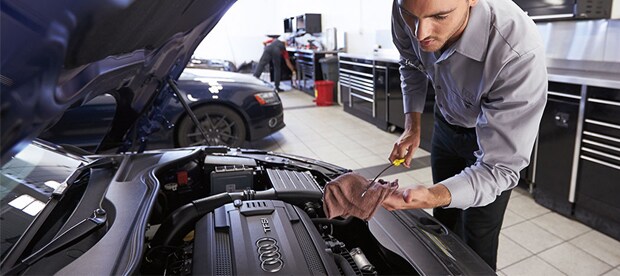 We strive to give our customers the most premium, stress-free auto repair and service experience possible. Our skilled and detail-oriented service technicians are dedicated to meeting all of your automotive needs. That means
 you can count on a
positive
auto service
experience 
when you visit our Audi Service Facility i
n 
Palo Alto
, which features only genuine
Audi parts
and a
complementary hand car wash
with every service performed.
Whether you're in need of an oil change, tire rotation, or you've come across a problem that needs to be repaired, our team of expert technicians will work to get you back on the road in no time. It's our mission to focus on safety, quality, and efficiency - because we know nothing is more important than our customers.
And if your car needs a little more work, just leave it with us and take home an Audi rental car until your vehicle is as good as new.
If you're interested in seeing what we can do for your Audi, be sure to fill out our online appointment form today. We'll quickly confirm your appointment's details, such as the time, date, and the specific work that needs to be completed. With Audi Palo Alto by your side, you can count on a worry-free experience.
Visit our Palo Alto dealership at 1730 Embarcadero Road.